Well done to all
just put some pics on for all of us left stranded
goed om te hoor die padda vang soms vis......



Posts

: 111


Manna

: 26


Join date

: 2009-11-26


Age

: 46


Location

: Cape Town



"So Boet, have you got your snoek gear packed in?"
"Ja, We'll See. It looks Promising!" …. Was that not the most under rated statement of the day.
6:30 and 3 Anchor Bay's parking lot is bustling with kayak anglers. The Kaskazi Kayak "going for Bronze" competition was causing more commotion than a used condom in a catholic school.
Once the red tape of safety checks and registration was completed, the kayakers set out onto what could only be described as perfect conditions. A perfect, windless morning, the city, the mountain and the new stadium in perfect view. But we were not here for what lay above the water line, but rather that which lay below.
Although the target species of the competition was the common "Hottie", it was evident 20 minutes into the competition, that we should have rather called the competition "GOING FOR SILVER" as the option to hook into a snoek took priority on everybody's agenda.
A 2.5km Paddle saw you in the thick of things, with snoek being landed on just about anything that moved. The " Silver Skollies" were not taking everything that was thrown (literally) at them. Hook ups were made on Jigs, plastics, Spinners, bait, Fly and even couta traces that had made their way down to Cape Town from Durban.
Carel van der Nest, managed to hook into some beasts with his fly rod, and too my knowledge is the first person to ever do so from a kayak. Rudolph's Buck tails worked on the troll as well as on the jig, and Sean's clear red head plastics where being taken off at the swivel.
Even the boys from the south cape came and got their fill of the Snoek action that presented to us. Oom Faan filled his DIY fish box on his "Lunchbox" fairly easy. (Snow White would have been so proud.) Wimpie and Zelda where double teaming it on their kayak and on more than one occasion had double ups.
But before the turn of the day and the closing time, one or 2 people still stuck to their guns and decided to go hunt for some "hotties", as this was a "hottie" Comp.
12:00 saw the paddle anglers making their way back to the slip for the official weigh in.
With only one angler managing to land a "hottie", it was undisputed that he was the winner of the Kaskazi "going for Bronze" Competition. But with a slight amendment of rules saw, the second prize becoming the first prize for the unofficial "Going for Silver" competition.
Just a big thanks to all those who participated, especially those that came from far.
A big thank you must also go out to the sponsors:
• Kaskazi Kayaks
• Brians Kayaks
• Pixel Print
• VB's Tackle
• LOADED smoothies



Posts

: 103


Manna

: 9


Join date

: 2009-11-26


Location

: Somerset West



We have another wkca competition on Saturday 22 May at Three Anchor Bay Seapoint.
I will give more info on tackle and places to fish in later posts.
Please join us and can you guys give me an idea of who will be joining us.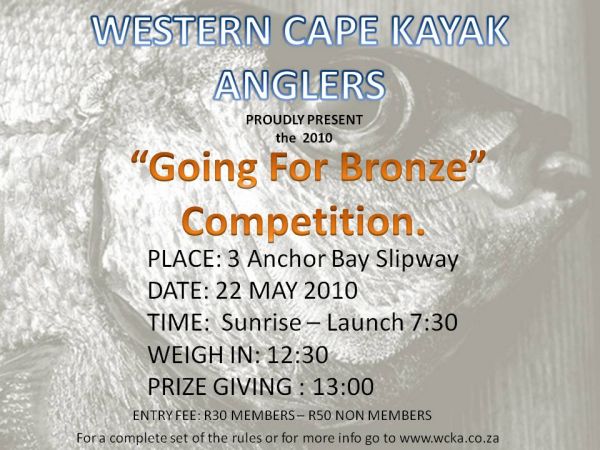 Ok guys this is the place we are fishing and to gives you guys an idea of the reefs out there.
Swell predicted at 2 m and wind at 4 -5 knots. This is the ideal fishing weather.



Posts

: 59


Manna

: 4


Join date

: 2009-11-25


Age

: 43


Location

: Brackenfell





Similar topics
---
Permissions in this forum:
You
cannot
reply to topics in this forum